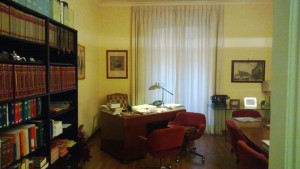 Located in the heart of the city of Rome, in the prestigious Torlonia Palace, Donvito's Law Office was founded in 1960 by Att. Pasquale Donvito and passed down to his son Marco in 1978. In 2010 Att. Cimmino joined the organization bringing to the office new skills and expertise alongside his staff.
The Office gives assistance to both Italian and foreign companies offering legal services in collaboration with selected accountants in order to best  help entrepreneurs in all aspects of their activities.
The areas of expertise are:  
commercial law and company law particularly regarding tender contracts
bankruptcy law and debt restructuring
tax law
labor law
family law
controversy before all grades of jurisdiction, civil, related to taxes and arbitrations.
Moreover the lawyers are part of a network of foreign law firms and accountants with whom they have maintained close, long-term, relationships that enable the Law Office to give assistance to its clients in more than 15 countries, with specific attention to French and English speaking countries as well as China. Att. Cimmino had been a member for almost eight years of a leading Roman law firm that had been one of the first to open a branch in Shanghai, allowing him to acquire outstanding cultural fluency. Therefore, our Office has its own Italian and Chinese language associates in Shanghai.
Our mission is to find the best, the fastest and the most economical solutions for our clients.